Global Android KitKat Adoption Still Stands At A Measley 8.5% | TechTree.com
Global Android KitKat Adoption Still Stands At A Measley 8.5%
60.8% of all Android devices still run on Jelly Bean, but that number is slowly falling.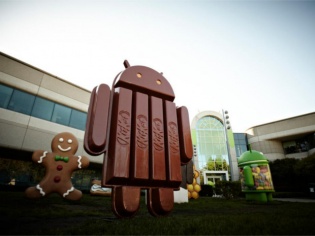 The latest version Google's Android mobile operating system continues to grow in use, accounting for 8.5% of all Android devices according to data from the Internet giant. The percentage of devices running KitKat 4.4 has grown from 5.3% at the beginning of April, but still pales in comparison its predecessor Jelly Bean.
Adoption of the seven month old software has been slow to say the least, and compares horribly with that of Apple's iOS 7 operating system. Even the various versions of Android Jelly Bean still make up over 60.8 per cent of all active Android devices according to Google.
However, there has been a slight drop in the rate of Jelly Bean installations over the past month, as have with the older flavours of Android. Ice Cream Sandwich is run on 13.4% of active Android devices, down from 14.3% at the beginning of April. Honeycomb makes up just 0.1% of installations, while Gingerbread dropped to 16.2% from 17.8%.
The key reason for the slow adoption rate of Android 4.4 KitKat is that they aren't initiated by the user, like with Apple's iOS. Android updates are carrier and manufacturer dependent, due to differences in hardware between phones. This is the same reason that Android is a lot more fragmented than iOS and Windows Phone OS and parent Google isn't liking what it sees.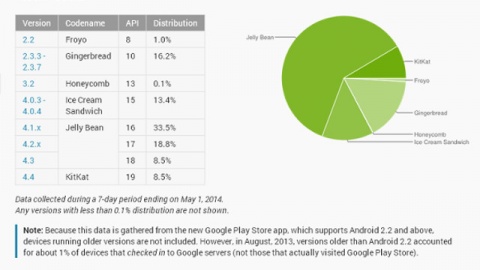 Apart from dictating terms on some manufacturers to launch all new phones, including mid-range devices pre-installed with KitKat. Google has also begun rolling out apps and features independently, such as the stock Google Camera which is now available for download on the Play Store.
The company is also taking its first steps towards inviting manufacturers to partake in its 'Play Edition' program, where Google loads an un-skinned version of Android on devices, provides timely updates and even markets and sells the devices on its own.
Android is steadily moving towards becoming like Windows Phone OS, which is solely controlled by Microsoft. Google is promoting more manufacturers to focus on improving hardware rather than custom version of the software. For users this could mean buying a device with thoroughly optimised software, timely updates and bug fixes and will hopefully be supported by older devices.
TAGS: Mobile Phones, Tablets, operating system, Android, KitKat 4.4, Google