2011 Mobile Market Share Figures Released
Nokia still leads the race, while Apple jumps up to the third spot.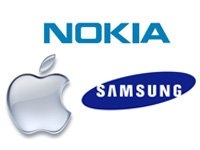 International Data Corporation (IDC) has released the figures for worldwide mobile shipments. Reportedly, a staggering 1546 million phones were shipped last year. Out of around 120 vendors in the list though, only five managed to leave their mark. Nokia continues to lead the mobile space by moving 417.1 million devices, accounting for 27% of the total market. Samsung notched up 329.4 million units to grab 21.3% of the market share. Interestingly, Apple rose to the third spot and pushed LG down to fourth place. Considering that Apple only ships high-end phones, the fact that it has managed to find a place in a list that includes low-end phones as well is truly impressive.

On the other hand, LG was the biggest loser with a whopping 25% decline in sales. Surprisingly, the relatively obscure Chinese manufacturer ZTE has emerged as the world's fifth biggest phone maker. Other big names such as Sony Ericsson and Motorola couldn't even make it to the top five. This probably means that abandoning their mass-market phones to focus on Android devices wasn't really a smart move.
TAGS: Mobile Phones, Nokia, Apple, Samsung, LG, Motorola, Sony, ck