Facebook Messenger 5.0 Update Makes Photo Sharing A Breeze For iOS | TechTree.com
Facebook Messenger 5.0 Update Makes Photo Sharing A Breeze For iOS
Update brings quicker photo sharing, simple sticker downloads and much more.
Facebook has given a big 5.0 update for iOS and as the company puts it, the new update brings everything to the front and centre. Viewing photos and videos now happens in the app itself, in fact there is no need to even move away from the app while doing the same.
Love it or hate it, the new update is here to stay. Sharing photos is now simply a click away and the app now opens the viewfinder directly in the message creation screen. There is now no need to leave the conversation even while doing that. Next up, videos similar to the gif support in Hangouts will play directly in your conversation windows instead of taking up the whole screen. You can even send videos directly from your camera roll as well.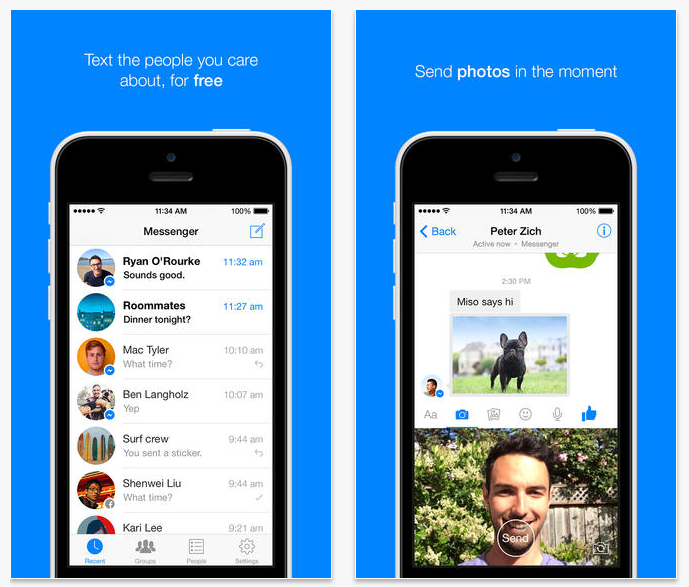 There is also improved search for iOS and downloading undiscovered stickers is now easier than ever. Simply press and hold down on an unknown sticker to download the whole sticker pack.
The new 5.0 update for iOS is now available for download and will soon roll out for Android in the coming week. Facebook seems to working really hard on introducing new features, many of which are not be found on the world's most popular messaging platform — WhatsApp. But we still wonder what keeps Facebook from taking over WhatsApp as the number one messaging platform (even though the former has taken over the latter in reality).
Publisher: Facebook, Inc.
Platforms: iOS 6.0 or higher
Size: 36.8 MB
Price: Free (with in-app purchases)
Download: iTunes