Huawei Unveils Its Ascend P7 Mini, A Possible Competitor To The Moto G
The P7 Mini's low-resolution screen and outdated OS make way for a better camera, expandable memory and 4G LTE connectivity.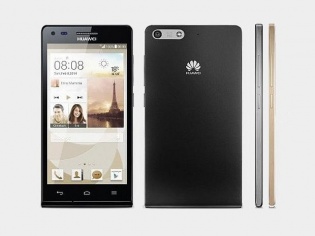 Huawei has unveiled the mini version of its much anticipated Ascend P7 smartphone in Germany, hinting at the possibility of both phones being simultaneously launched at the company's even on May 6.
The Ascend P7 Mini will feature a 4.5-inch TFT display with a qHD resolution (540x960 pixels), and will run on Android 4.3 Jelly Bean. The phone will be powered by a 1.2 GHz Qualcomm quad-core processor, Adreno 305 GPU and 1 GB of RAM.
Apart from this, the P7 Mini will also feature an 8MP snapper at the rear, along with a 5MP front facing camera, perfect for selfie-lovers. The phone also gets 8GB of in-built storage, with the option of bumping that up to 32GB via a microSD card.
While these specifications put the Ascend P7 Mini right up the Moto G's ally, the phone also comes equipped with 4G LTE connectivity, something rumoured to be coming in a new variant of Motorola's popular mid-range smartphone.
There will however be a few drawbacks of picking the P7 Mini over the Moto G, most importantly, the lack of stock Android 4.4 KitKat. Not only does the P7 come with Android 4.3, but also uses Huawei's Emotion UI 2.0 Lite skin, already seen on the Ascend P6.
The other drawback would be the low-resolution screen; the Moto G features a display which is similar in size but with HD resolution. Apart from this the P7 Mini also gets a 2000mAh Li-Po battery, which Huawei claims helps the phone deliver 370 hours of standby time and 12 hours of talk time.
Despite the drawbacks, the P7 Mini could possibly give the Moto G a run for its money, appealing to people looking for better imaging, expandable storage and 4G LTE connectivity. Huawei however hasn't given out any details about the phone's price, so we'll just have to wait and watch if the company can really deliver.
TAGS: Mobile Phones, Android, Huawei, Ascend P7 Mini, Moto G