Facebook Acquires Makers Of Fitness-Tracking App Moves | TechTree.com
Facebook Acquires Makers Of Fitness-Tracking App Moves
With this acquisition the company is cementing its place in the fitness-tracking and overall wearable war that's coming.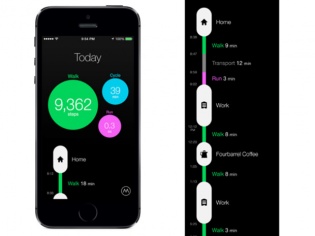 Social networking giant Facebook has announced the acquisition of ProtoGeo Oy, a Helsinki-based startup that offers a fitness-tracking mobile app called Moves. The outfit joins the fleet of recent purchases Facebook has made in order to unbundle its big-blue mobile app, as founder Mark Zuckerberg recently told the New York Times.
The acquisitions comes at a time when Facebook has been changing itself to become a 'mobile-first' service. It no longer wants to be one big app, but many different apps that do different things. This was most evident when the company announced it will withdraw chat application from its main app, promoting people to use its Messenger app.
Now by acquiring Moves, it's clear that Facebook wants to be a part of the fitness-tracking revolution that is soon coming. Like Google and Apple, which are working on and rumoured to be working on devices that help monitor a plethora of parameters. These smartwatches and other wearable devices are considered to be the first frontier of 'The Internet of Things'.
All major fitness tracker apps in the market offer social sharing, but as we can expect, a fitness tracker from Facebook will most likely put social first. Moves can really grow to become a great product with the backing of Facebook, and like other services purchased by Facebook, we can expect them to have their independence for at least now.
Fitness tracking is what will kick off the wearable industry, which so far has been receiving a lukewarm feedback from consumers. Facebook thinks they can change that, by making wearables social, rather than just data collection devices. There's a bubble just waiting to burst, and with Apple, Google and Samsung vying for a piece of the action, there's almost no doubt that it will be big.
TAGS: Apps, wearable, fitness-tracker, Facebook, Moves