Moto X+1 Specifications Leak: Larger Screen, Faster Processor, Better Camera | TechTree.com
Moto X+1 Specifications Leak: Larger Screen, Faster Processor, Better Camera
Will allegedly feature a 5.2-inch Full HD screen, a Snapdragon 800 processor and a 12MP camera.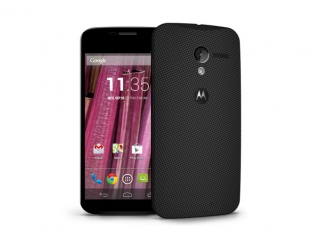 Last year one of the biggest leaks that the tech community witnessed was that of the Moto XT912A, which eventually turned out to be the Moto X. The leak came a whole five months earlier than the phone's official launch, giving us a clear picture of what to expect.
Now a supposedly new Motorola device under the same model number (XT912A) has propped up over at GFXBench, as reported by Droid Life. The phone which could very well be the upcoming Moto X+1 features a 5.2-inch 1080p screen (1920x1080) and is powered by a Qualcomm Snapdragon 800 clocked at 2.3GHz.
The leak also shows that the phone will get 1.7GB of RAM, 24GB of internal storage, an Adreno 330 GPU, a 12MP camera and will be powered by Android 4.4.3 (KitKat).
However , there are currently a lot of people who think the phone could be a new Droid Razr because the phone once carried the model number XT912. However the fact that last year's Motorola XT912A leak turned out to be the Moto X strongly suggests that the phone will be its successor.
We strongly believe that this is the Moto X+1, especially since the timing of the leak coincides with other rumours of Motorola's upcoming flagship. We already know what it will most likely be called, and that the company will begin offering the option of customising the phone with real leather back covers.
Things seems to be heating up at Motorola ever since Google announced that it was selling the handset manufacturer to Lenovo. With the Chinese PC giant setting a goal to make Motorola profitable withing just three quarters, it could mean that projects in the pipeline are being accelerated.
Recently news about the super-slim Moto E broke, flaunting similar specs to the highly successful Moto G. The only real difference between the two phones, at least on paper, seems to be the more compact size of the leaked Moto E.
Motorola is also looking to launch an LTE variant of the Moto G, probably after studying its success not only in developing markets, but also the developed ones. Users here have ready access to 4G internet speeds, and its addition would make the phone an even more serious contender in the entry to mid-range smartphone market.
From all the leaks and rumours it's clear that Motorola isn't completely changing the way it builds phones after coming under Lenovo. There's no mad rush to compete with the likes of Samsung and LG in the race to offer the best specifications. It's a more grown up way of approaching markets, and like demonstrated with the Moto G, it does work very well.
TAGS: Mobile Phones, Android, Motorola, Moto X+1, Lenovo