Indian Railways Launches Windows App To Track Train Schedules
Get updates on the departure & arrival timings of a particular train in real time.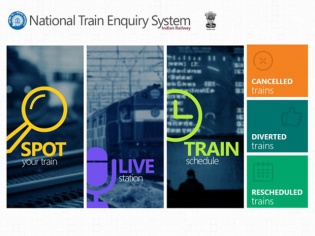 The Indian Railways' information and technology arm has teamed up with Microsoft to create an app that gives users information of the expected arrival and departure times of a particular train, while also letting them track the train's position in near real time.
The National Train Enquiry System (NTES) app is available for both PCs running Windows 8 as well as mobile devices running on Windows Phone 8.1.
The NTES is basically the Indian Railways' back-end system that provides the public with near real-time information about train schedules. This information so far has been available through websites, enquiry counters, through call and display boards at stations.
The NTES app is the next step towards bringing this information to the public, and has various features such as 'Spot Your Train', Train Schedule', 'Train Between Stations' and 'Cancled Trains'. The app gives users a comprehensive information about the national railway network.
While the app is currently available only on the Windows, the Centre for Railway Information Systems is already working to bring it to multiple platforms.
Follow these links to download the NTES app for Windows 8 PC and Windows Phone 8.1.
TAGS: Indian Railways, Microsoft, Windows 8, Windows Phone, NTES app, Apps