New Google Hangouts Update For Android Brings SMS Options And Much More | TechTree.com
New Google Hangouts Update For Android Brings SMS Options And Much More
You can now choose to send a message via SMS or Hangouts chat.
Looks like Google has indeed been paying attention to user reviews on its Play Store. The internet giant has finally released an update to its Hangouts app that brings some much needed changes that Android users have been cribbing about for a very long time.
One of those major changes is the option to choose how you send a message from your device. Earlier, Hangouts would automatically choose how to send a message to your friend or family member. If internet connectivity was available and your friend was online on Hangouts (mobile, tablet or desktop), the app would directly ping the person via hangouts. If the user was not online, then the app would send the message across as an SMS.
Unfortunately, for those of us who wanted to send a text message instead of an online chat, would be left with no option. This is especially for Nexus devices, since Hangouts replaces the default text messaging app on the device upon updating. Now users finally have choice to send messages the way they want to thanks to a little option in the settings menu.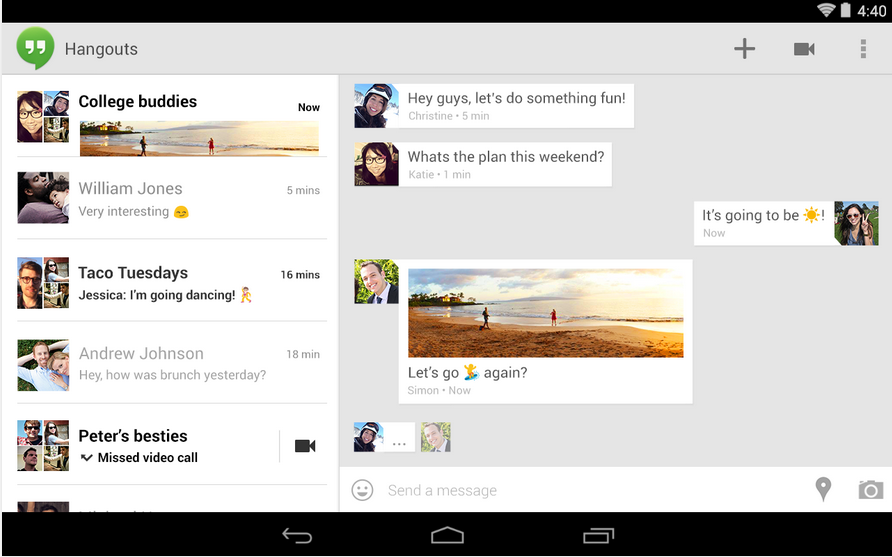 The second feature thanks to the new update, allows for an option to keep your SMS conversations separated from your chats. The update even allows you to send group MMS from the Hangouts App. Moreover, the overall speed and reliability of the service has also improved.
What's more is that Google has also included a handy Hangouts widget for your home screen. The widget simply displays recent and current pings from the messenger making it easier to directly jump to a conversation from your home screen.
The update is rolling out gradually so you may have to wait until it becomes available for your device.
Publisher: Google Inc.
Platforms: Android 2.3 and up
Size: Varies with device
Price: Free
Download: Play Store
TAGS: Downloads, Mobile Phones, Tablets, Android, Google