Motorola Could Soon Roll Out Two New Variants Of The Moto G
One equipped with a 4G LTE radio and the other with some Ferrari branding.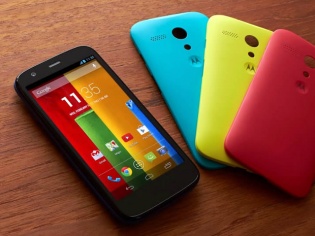 American phone-maker Motorola is supposedly planning to release two new variants of its popular mid-segment Moto G smartphone, dubbed the Moto G LTE and Moto G Ferrari, accroding to Xataka. The two devices are expected to retain much the same hardware as the regular Moto G, albeit a few changes.
The Moto G LTE as its name suggests will feature a 4G LTE radio, allowing for much faster internet speeds. While Motorola had initially planned for the Moto G to be successful in emerging markets, the phone has been well received in developed markets too where customers have ready access to 4G networks. This could be one of the reasons the company decided a 4G enabled Moto G would make sense.
The other device, dubbed Moto G Ferrari is rumoured to be a special edition version, featuring the distinctive design probably inspired by the Italian supercars. On the contrary it could just be a red coloured version of the phone just as Google launched a red Nexus 5. (keep in mind the Moto G was conceived when Motorola was still owned by Google)
Apart from this, one can expect some Ferrari logos with some added livery to spruce things up. If the Moto G Ferrari does indeed get launched, it wouldn't be the first time Motorola has joined forces with the Italian mark to launch special edition phones.
Recently Motorola has been making the headlines with an upcoming flagship Moto X+1 and even an ultra-slim Moto E. Seems as though Motorola is keen to maintain its newfound success, despite the ongoing transition of ownership from Google to Lenovo.
TAGS: Mobile Phones, Android, Motorola, Moto G LTE, Moto G Ferrari