Samsung's S5 Costs $50 More Than An iPhone 5S To Manufacture
This proves that Samsung just spends all its money in cramming the device full of features.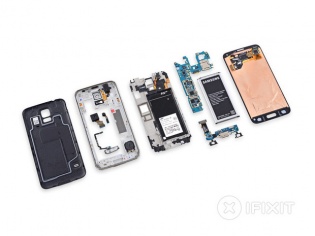 Samsung's latest flagship S5 device costs the company $256 to manufacture according to analyst IHS Technology, making it a whole lot more expensive than than rival devices and more importantly Apple's latest iPhone 5s.
According to a ZDNet report, the 32GB variant of the iPhone 5s costs Apple $207 to build, making the device almost $50 cheaper than the Samsung Galaxy 5S. In a world where devices running Google's Android are seen as being cheap (many of them are), the S5 is a stark contrast as IHS points out a few Android devices cost less as $35 to manufacture.
The calculations don't take into consideration costs of licensing software, royalty payments and other additional expenditures which bump up the cost quite a bit. The cost of just the components Samsung uses in its devices has been increasing over the years, as the company crams each iteration of its S phone with more features.
Cost of the components used in the Galaxy S3 came in at $ 205, the S4 was $236 and now the S5 costs $256.
Despite the added expense, there hasn't been any major changes in the design of Samsung's flagship devices, pointing to an evolutionary design approach.
"There are no revolutions or giant steps forward in this design. There's a lot of similarity and commonality between the S5 and other recent Samsung smartphones... However, there are many small changes throughout the design," said Andrew Rassweiler, senior director of cost benchmarking at his, in the Zdnet report.
According to the report, one of the most expensive components used in the phone is Qualcomms MSM8974AC chip, which costs $41. The chip does combine the functionality of a processor and a wireless semiconductor, but adding the memory bumps takes the cost up to a whopping $102. The screen is the second biggest expense and is estimated to cost around $63.
The other reason the S5 costs so much to build is the many sensors that Samsung has crammed into it. Apart from featuring the regular accelerometer, gyroscope, and magnetometer, the phone also has a barometric pressure sensor, a fingerprint reader and a pulse sensors.
However, there are a few variations in the components used based on the region the phone is sold in. The phone which IHS toredown includes a TV receiver which it is sold with in the Korean market. Even in India Samsung has gone ahead and changed the core processor of the phone from the Qualcomm Snapdragon to its very own Exynos chip.
TAGS: Mobile Phones, Android, Samsung, Galaxy S5, iPhone 5s