Dustbins Go Tech-Savvy In London
Flaunt LCD screens and Wi-Fi connectivity.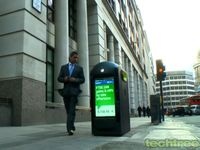 We keep hearing about the world getting more high-tech with each passing day. For us in India, it doesn't go beyond cutting-edge smartphones and computers. However, the folks in London are doing something unthinkable. It sounds weird, but the Brits have added LCD screens and Wi-Fi connectivity to street-side garbage bins!

The fancy trashcan displays news and stock quotes on its two LCD screens. Currently, most of the content comes from The Economist and the London Stock Exchange. However, in the event of a crisis, it will broadcast updates directly from emergency services. What's more, the bins are equipped with Wi-Fi, allowing them to double up as a hotspot.

The project is run by the UK-based Renew Solutions. Reportedly, it costs them a staggering 30,000 pounds (approx Rs 23 lakh) to install a single unit. Little wonder then that the company executives are hoping to rope in some sponsors.

Around 25 such dustbins are already functional in London, and Renew is set to install 75 more before the London 2012 Olympics kicks off. Keeping with the spirit of competitive sports, the perfect additions to this gizmo would be a touchscreen and an installation of Angry Birds.


Considering the current recession, it's now appropriate to say that stocks are garbage.