Microsoft Showcases Its Rival To Apple's Car Play | TechTree.com
Microsoft Showcases Its Rival To Apple's Car Play
Just another indicator that Microsoft is truly serious about its mobile plans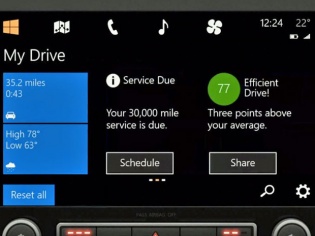 Microsoft showcased its plans for the future of Windows at last week's Build conference, and while the excitement surrounding Cortana ate up most of the headlines the company did manage to show a sneak preview of its in-car operating system concept.
With the battle to feature at the centre of your car's dashboard only heating up, Microsoft's rendition for in-car Windows was strikingly similar in functionality to Apple's CarPlay. According to Steve Teixeira of Microsoft's development division, the prototype is a projection of a phone's screen on a car's dashboard display.
The system showcased the ability to access maps, make telephone calls, send messages, listen to music and even view the vehicle's diagnostic information. Moreover Microsoft wants to integrate the system in a way where safety is the prime improtance.
For example, when the vehicle was in 'Park', apps with a wide variety of functionality could be used, demanding a large portion of the user's concentration. However, when the vehicle is in motion only apps which have been optimised for use while driving will work.
The company also spoke of tools that would help developers make apps which would conform to safe driving standards. This would mean more apps functioning through gesture, voice, or even through steering mounted controls.
While Microsoft did not divulge on any details as to when the system could be launched or even its name, it does show that the company isn't too far behind in the race to be everywhere. The company has already helped Ford Motor Company build its SYNC system, which can be taken as the precursor to the upcoming in-car systems.
TAGS: in-car infotainment technology, Windows, Microsoft, Apple, CarPlay