Motorola Could Offer The Option Of Leather On Its Moto Maker Tool | TechTree.com
Motorola Could Offer The Option Of Leather On Its Moto Maker Tool
First it was wood, now leather. Doesn't seem too far fetched if you look at it that way.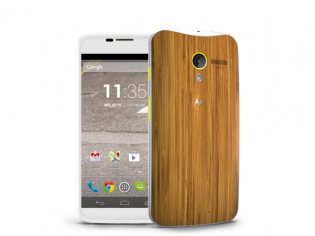 Motorola seems to be getting a lot of attention these days, and following the leak of the 'Moto X+1' rumours now suggest the company could begin offering a leather option in its Moto Maker customisation tool.
Master-leaker evleaks who broke news of the new logo for the Moto X+1, put out a tweet that hinted at 2013 being the year of wood, while 2014 will be the year of leather. While Moto Maker may be exclusive to the US market, the new leather options could make their way to other regions such as India just as the wooden back Moto X did.
2013:wood::2014:leather

— @evleaks (@evleaks) April 6, 2014
For now though it would be highly speculative to think whether Motorola would offer the leather back option as an accessory to customers or as part of the Moto Maker for the upcoming Moto X+1. The theme however does seem to fit with the company's plans to offer the Moto 360 smartwatch with changeable leather straps.
The rumour does in a way point at Motorola's future endavours of which customisation is a huge part. Judging by the success of the company's recent Moto G, it wouldn't be a long shot to think that Moto Maker could be rolled out across the globe, especially in Lenovo's quest to turn the company into a profitable entity.
TAGS: Mobile Phones, Android, Motorola, Moto X, Moto X+1, Moto Maker, leather back