Microsoft Claims 12 Million People Are Already Using Office For iPad
Still doesn't tell us how many Office 365 subscriptions Microsoft has sold through the iPad apps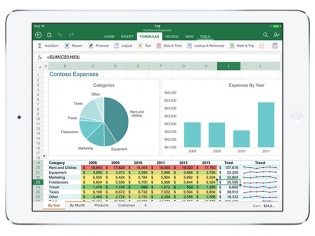 ---
---
Microsoft recently began practicing its new 'mobile first, cloud first' mantra, and nothing said it better than the launch of Office apps for Apple's iPad. Now the company claims it has received over 12 million downloads for Word, Excel, PowerPoint and OneNote for the iPad just a week after its launch.
More than 12 million downloads of Word, Excel, PPT & OneNote for #iPad from the @AppStore <3 #OfficeforiPad pic.twitter.com/iT2egNPDkj

— Office (@Office) April 3, 2014
The apps are free to download, but their use is limited to simply viewing documents. For creating and editing Word, Excel or PowerPoint documents, users have to purchase an Office 365 subscription. Further, Microsoft also has an in-app purchase for Office 365 which clearly shows the company's intention for using Office for iPad as a venue to sell its paid subscription services.
While the company has released the number or downloads for Office apps on the iPad over the past week, it did not share details about the number of Office 365 subscriptions gained through the apps.
"We're extremely pleased with the Office for iPad interest we've seen from consumers and business alike. We have no additional details to share," said the company in a statement.