Microsoft's Cortana Will Not Make It To India Until 2015 | TechTree.com
Microsoft's Cortana Will Not Make It To India Until 2015
Just when we all thought Windows Phone is finally in getting into the game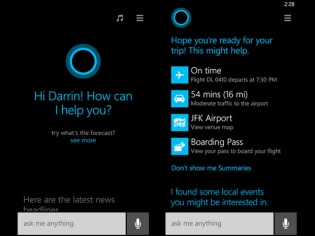 After a long wait Microsoft's Windows Phone 8.1 is finally here, with features such as its digital assistant Cortana bringing the operating system up to steam with iOS and Android. This key feature however will not see the light of day in India until 2015.
Cortana was undoubtedly one of the highlights at Microsoft's Build Conference, but the company has announced that the digital voice assistant will initially be a beta product available only in the US. The feature will go online in the UK and China only in the second half of 2014, while roll-out in other Asian countries including India will happen only in 2015.
According to Times of India, the delay in rolling out Cortana for Windows Phone 8.1 is most likely due to the software's inability to recognise different languages as well as accents. Much like with Siri and Google Now, users will be able to speak to their phones to ask it to perform various tasks.
Just as Google Now is an extension of the company's web search service, Cortana will be powered by Microsoft's Bing search, while also having the ability to notify users of phone calls, messages, emails. Moreover the feature will let users set reminders, search the web as well as files stored on their device and operate other apps such as the music player.
While Cortana's complete array of capabilities remain unknown, Microsoft is pushing for it to understand highly contextual statements better. Google Now is currently the benchmark to beat, and even it has many shortcomings when it comes to things like keeping up with the various modes of transport a person may use.
In Microsoft's defense, when Apple launched Siri back in 2011, it was a beta product as well, and came out of development mode only in September 2013. Even then Siri had many flaws grasping voice inputs in an Indian accent, robbing it of some of its functionality.
With Microsoft though there's the problem of falling further back in the game with the delay. Everyone agrees that Cortana has entered the game when its rivals have already become massively popular and efficient. Added to that regions like India are powering Windows Phone sales, and the delay could cost Microsoft customers.
TAGS: Mobile Phones, Windows Phone, Microsoft, Cortana, voice assistant