Motorola's Rugged 'Moto G Forte' Goes On Sale In Mexico
Calm down. It's the same phone shipping with a Motorola 'Grip Shell' right out of the box.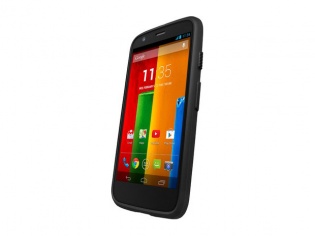 Motorola has quietly launched a new variant of its highly successful Moto G smartphone in Mexico, dubbed the Moto G Forte. Seen as a more rugged alternative to the standard phone, it ships with Motorola's Grip Shell right out of the box.
The Moto G Forte sports identical specifications to the regular phone, albeit a rubberised back cover that surrounds the perimeter of the phone. The 'Grip Shell' is available as an accessory directly from Motorola which can be bought for Rs 999 in India.
The Forte also runs Android 4.4.2 KitKat right out of the box, unlike the regular phone which ships with JellyBean. Sold as a more hardy variant of the Moto G, other than the Grip Shell, the phone features no enhancements that make it any more rugged. It comes with the same Corning Gorilla Glass 3 digitiser and also features the same water repelling Nano coating.
While there isn't any news of the phone coming to markets other than Mexico, judging by the success of the Moto G in India, possibility of it coming to India can't be ruled out. For now though you could just order a Moto G on Flipkart and avail of a Rs 100 discount on any Grip Shell.
TAGS: Mobile Phones, Android, Motorola, Moto G Forte, Moto G