Windows Phone 8.1 Brings Much Needed Improvements To The OS | TechTree.com
Windows Phone 8.1 Brings Much Needed Improvements To The OS
Microsoft seems to have gone the Apple way with its newest update.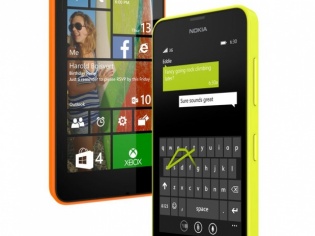 After numerous leaks thanks to the SDK's, Microsoft finally revealed to the world its latest and greatest creation — Windows Phone 8.1. The update has brought numerous improvements to the Windows Phone platform; from the Action Center to Cortana, the digital assistant. But is all of this a little too late?
Joe Belfiore proudly demoed on stage the highlights of the latest update for Windows Phone, and looks like Microsoft seems to have done a really good job after all. Windows Phone 8.1 is no minor update; that's for sure. But somehow these are definitely not the features that would attract new customers. Such features would simply retain those who are probably looking at switching to another platform from Windows Phone.
Obviously the biggest highlight of the update would be Action Center which (finally) brings a single space for missed and current notifications for Windows Phone users. It seems to be the less functional copy of the Android notification bar with some squished toggles at the top. iOS somehow seems to have done a better job with that. But it somehow does kill the point of having the Windows Phone Start screen. Why on earth would you want two places to check your notifications?
Cortana functions as a well-crafter voice assistant that mimics Siri, but as demoed by Joe Belfiore, seems to be a lot smarter. The question here is how would it recognise languages across the globe? After tonnes of revisions, Siri still does not recognize voice commands right; out here in India… that is.
Also included are Parallax scrolling wallpapers, new lock screen animations and a 'Word Flow' keyboard which is similar to Swype but a lot smarter. People Hub can now integrate with 3rd party apps which is a long-awaited feature that developers can take advantage of. Calendar, Xbox Music, Video have all been given a refresh as well.
The Camera and the Gallery have finally been given a refresh as well. Something which has barely changed since the first iteration of Windows Phone. Also newly introduced is independent volume control, a feature that Windows Phone users have been craving for since day one.
All-in-all a lot of welcomed changes for Windows Phone users. We can hear the Android and iOS crowd whispering "Didn't they have all of that already?"
TAGS: Software, Windows Phone, Microsoft