Toshiba Wants To Cash In On Wearable Tech | TechTree.com
Toshiba Wants To Cash In On Wearable Tech
Introduces a brand new application processor for wearable devices.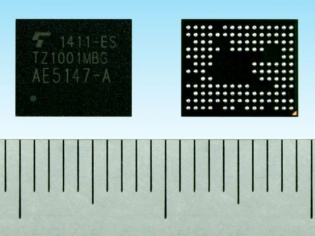 It all began with one announcement from Google that the search giant wants in on wearable tech. The world gasped in awe—forgetting what Samsung and Sony had done in the past—staring at the two distinct smartwatches running Google's Android Wear OS.
What followed later was a barrage of enquiries about the smartwatches. Motorola finally stepped in a few hours late in to answer all those complicated questions related to the Moto 360. LG a week later confirmed the LG G Watch and since then, the tech world got really hyped-up about the whole wearables scene.
Quickly we learnt that Samsung and Sony will continue to use their own software to run their smartwatches since they had already finalized on their designs. With smartwatches being churned up by every other manufacturer, it's pretty obvious that chipmakers will also want to cash in on the occasion.
Toshiba has done just that by announcing their latest TZ1001MBG; an application processor for wearable devices. The chip is unlike the current architecture followed by the industry, and provides everything in a single package for wearable devices.
Wearable devices being a lot smaller compared to cell phones, will need tinier processors that consume minute amounts of energy. This is where low energy processors come to the rescue—an area that Toshiba plans to get a head start.
Toshiba's idea of a single package is basically to reduce the number of components which reduces the mounting area, leading to a smaller wearable device. Mounting various elements on a single chip also helps reduce energy consumption as well. Toshiba states that integrating an accelerometer to measure motion, a processor to handle the data acquired by the sensor, flash memory to store data, and a Bluetooth(R) Low Energy controller that supports low power communication on a single chip, will save loads of energy allowing the device to last longer on a single charge.
We are pretty excited to know what wearable tech will bring to the world of mobile devices. What is more important is how it will change the way we communicate and how it will be used in the medical field that keeps us glued to the topic.
TAGS: Science, technology, processors, wearable, Toshiba