Have You Downloaded Your Free BlackBerry Apps Yet? | TechTree.com
Have You Downloaded Your Free BlackBerry Apps Yet?
You can now download free premium apps on the 5th Anniversary of BlackBerry World's storefront.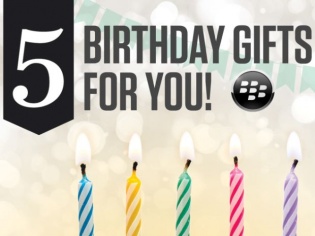 BlackBerry is more famous for its price cuts these days than anything else. But wait! Now there's more because BlackBerry says that those Anniversary celebrations haven't ended just yet. On the occasion of BlackBerry World's fifth birthday, BlackBerry is actually giving out five free apps and games every day till the 4th of April.
These are not free apps or free apps with in-app purchase discounts like Google did, but some really good premium apps. The apps selections are different depending on which handset or OS you are currently using on your BlackBerry device.

BlackBerry 10 users are treated to premium titles such as:
Tilt
Scan to Text
InstaVenue
Uno
Doodle Jump

Older BlackBerry OS device users will have the following:
Iron Man 3
Uno & Friends
ColorID
Photo Studio Pro
Keep Calm-o-Matic Theme

An interesting app selection by BlackBerry for BlackBerry users we might say. The app prices range from Rs 50 up to Rs 150 all of which are now available for free. Also it's fairly simple to download them:
Simply visit BlackBerry World and click or tap on the 'Birthday Gifts' banner
Select the app or game that you wish to download
Tap on the 'Free' button to get them installed

BlackBerry recently made waves by giving their year old devices some pretty interesting price cuts. They began their anniversary celebrations with the Z10 which went out of stock pretty quickly sporting the new price of Rs 17, 990. Next up was the Z30; a larger and more expensive device from BlackBerry's arsenal, sporting a 5 inch screen and a faster 1.7 GHz processor. The smartphone got priced at Rs 34,990. BlackBerry may be trying to empty its older stock piles of smartphones (which clearly failed to attract buyers earlier) by pushing them off at a lower price; thus making way for newer devices like the upcoming Z3.

TAGS: Apps, BB 10, BlackBerry