Nehru Place To Observe Bandh on 1st Feb | TechTree.com
Nehru Place To Observe Bandh on 1st Feb
Shopowners protest against rampant hawking and poor maintenance.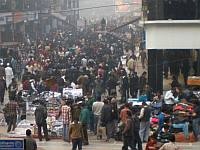 Nehru Place, Delhi - the mecca of IT hardware in India, and Asia's largest IT market - may have been declared as a no-hawking zone, but that hasn't stopped roadside vendors from taking over its pavements. It's little surprise then that it has recently been found to be one of the most notorious IT markets for pirated goods. The scores of unregulated hawkers, estimated to be over 500, have prompted shopkeepers to unite for a "peaceful protest". Nearly half the shops and offices in the market will observe Nehru Place Bachao bandh tomorrow (1st Feb), from 10 am to 12 noon. The strike aims to underline the shopowners' woes over the unregulated hawking and lack of civic amenities.

However, it's not difficult to see the real reason why the shopkeepers have risen up in arms against the hawkers. With the annual revenue generated by the market pegged at around Rs 5000 crore, even a small percentage conceded to unauthorised sellers proves to be a substantial amount.


TAGS: Hardware, Government, Nachiket