Facebook Buys Virtual Reality Company Oculus VR for $ 2 Billion | TechTree.com
Facebook Buys Virtual Reality Company Oculus VR for $ 2 Billion
Gear up for a world of virtual advertising.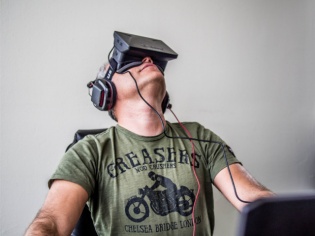 Following up his purchase of instant messaging app WhatsApp, Facebook boss Mark Zuckerberg has announced the acquisition of virtual reality company Oculus VR for a cool sum of $ 2 billion in stock and cash.
In a post on Facebook Zuckerberg said how he plans to make Oculus a platform for "completely new kinds of experiences," with gaming being the first one. For the co-founders of the VR company Palmer Luckey and Brendan Iribe, the deal with Facebook is the closest they can get to bringing VR to as many people as possible.
While Oculus' current focus may be to revolutionise the world of gaming, the Facebook founder isn't restricting the future of VR to just that. He mentioned how the technology could help you in "enjoying a court side seat at a game, studying in a classroom of students and teachers all over the world or consulting with a doctor face-to-face."
More than being a technology to make games more immersive, Virtual Reality is a new platform for communication. This made Oculus a prime target for Facebook, which through its social media front really wants to be a communication giant of the future.
The idea that virtual reality may be the next big thing really kicked off when Japanese tech-giant Sony showcased its project Morpheus to the world last week. The development also meant that Oculus was now about to go up against a giant, but with Facebooks backing it might just make things a lot easier.
In the past Zuckerberg has famously denied wanting to get into the hardware business, but he proved himself wrong with the deal with Oculus. This clearly shows the potential of Oculus and virtual reality technology in the shaping of our future.
TAGS: technology, virtual reality, Facebook, Oculus VR