Facebook Is Testing Persistent Notification Bar On Android | TechTree.com
Facebook Is Testing Persistent Notification Bar On Android
Provides direct access to newsfeeds, notifications, friend requests, and messages.
Persistent notification bars on android are a real 'no no'. However, it seems Facebook is testing out a similar idea. According to TheNextWeb, these FB notification, will always remain on your notification tray (unless you switch it off of course!). We bet that it's going to be something really annoying as it cannot be swiped away. Since it's said to be in the testing phase, let's hope that the final product turns out to be less "persistent" than what these speculations suggest.



A Facebook spokesperson has confirmed this test to TheNextWeb, saying it was only available to "a small group of people" and adding that "if you'd like to turn this off, you can click the 'i' icon on the right side of the notifications bar and it will take you to settings."

On a related note, we have seen quite a few gaudy notification bars in skinned Android. A good example is Samsung's TouchWiz wherein the notification tray is crowded with switches/toggles at the top. This may be useful for some, but surely takes up precious space when you have a lot of notifications appearing on your phone. The Nexus devices smartly have a toggle to switch to the tiled buttons, which can be accessed quickly; not crowding up the notification area in the process.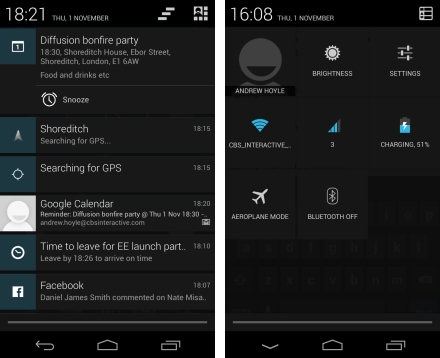 TAGS: Apps, Mobile Phones, Facebook