Secusmart's Secure Blackberry Z10 Priced At $2770 | TechTree.com
Secusmart's Secure Blackberry Z10 Priced At $2770
Government-secure? We think its more people from the government who would be interested.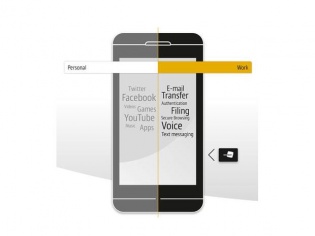 It may look like an ordinary BlackBerry, but this Z10 from Secusmart GmbH is perfect to save you from those prying eyes of the government.
The technology is supposed to be completely government-secure, meaning that nobody can tap into your conversations or even read your messages as everything is encrypted. The phone features a preloaded microSD card that acts as a separate hard drive for confidential information, which can't be accessed by attackers who infiltrate the operating system.
What you get with this device is 128-bit AES encryption, elliptic curve cryptography, and certificate-based authentication of call participants (that sounds very complex). There is a catch though; the caller on the other end of the line will also need to own one of these devices. Also Secusmart GmbH has plans to make the parts of its security software available on more common devices.
The secure handset comes at a price tag of $2,770 dollars (just Rs 168,000)! Well, since iPhone 5s went on sale, we would not be surprised that many would not mind paying so much for a secure device. Not to mention all those NRI's and politicians who desperately need to be shielded from the government — or maybe it's the other way around.
TAGS: Mobile Phones, BlackBerry, Software, Security