Gap Between iPad And Android Narrows
However, Apple remains #1 by far.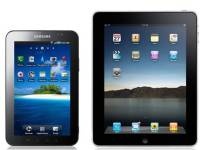 The gap between the Apple iPad and tablets running Google's Android OS in the global market seems to be narrowing somewhat in the fourth quarter of 2011, as reported by research firm Strategy Analytics. Android's market share grew from 29% to 39% as compared to Q4 of 2010, whereas Apple's share slipped from 68% to 58%. However, the minor shift in balance hasn't stripped the Cupertino-based company of its commanding lead.

Neil Mawston, Executive Director at Strategy Analytics said, "Dozens of Android models distributed across multiple countries by numerous brands such as Amazon, Samsung, Asus and others have been driving volumes. Android is so far proving relatively popular with tablet manufacturers despite nagging concerns about fragmentation of Android's operating system, user-interface and app store ecosystem".

While 66.9 million tablets were sold in 2011 alone, considering that Android OSes are carried across manufactures, it will take a lot more effort to surpass the iPad's figures.