Micromax's CDMA+GSM Handset Gets A Rs 16,000 Price Tag | TechTree.com
Micromax's CDMA+GSM Handset Gets A Rs 16,000 Price Tag
Micromax Canvas Blaze HD is compatible with both the CDMA and GSM networks.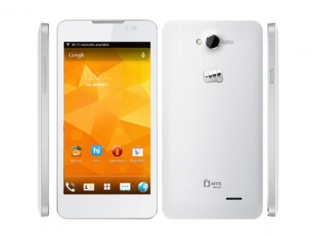 After appearing online a week ago, the Micromax Canvas Blaze HD has finally hit the stores. The handset is pegged at Rs 16,000 and is available from Micromax's eStore. The budget dual-SIM handset has been built to attract users who want to stay connected with both CDMA and GSM.
The device packs in a 1.2 GHz quad-core chipset (advertised on the site as a Snapdragon) with 1 GB of RAM. 4 GB of internal memory is available with 1.7 GB available for apps. Of course the memory can be expanded with the help of a micro SD card all the way up to 32 GB. Running on Android Jelly Bean V 4.1, the device comes with a 2000 mAh battery.
The handset comes only in White, so if you are picky, there is no other option.
TAGS: Mobile Phones, Android, Micromax