Facebook Messenger Coming Soon To Windows Phone | TechTree.com
Facebook Messenger Coming Soon To Windows Phone
Will allow Windows Phone users to send pictures on chat.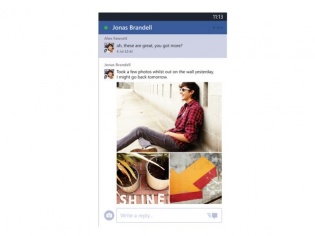 We all loved the first version of Facebook that was launched when the platform was in a nascent stage. With its modern interface, the app complemented Microsoft's Metro design language.
Finally today, Facebook announced Messenger for Windows Phone. It was one of the most awaited app for most Windows Phone users. There were also delays when chatting with the existing Facebook Beta Inbox even with the best Windows Phone hardware available.
The recent beta version of Facebook seems more like it has been ported from Android with sidebars for navigation and settings. The beta version also lacks the standalone messenger app that Android and iOS users have been enjoying over the past one year. Thankfully, the announcement of Facebook Messenger shows that Facebook is interested in the Windows Phone as a platform and also a fact that indicates that Windows Phone is growing more rapidly than ever before.
TAGS: Mobile Phones, Windows Phone, Facebook, Microsoft