Idea And Vodafone Bring The Opera Web Pass To India | TechTree.com
Idea And Vodafone Bring The Opera Web Pass To India
Let the advertisers pay for your browsing session.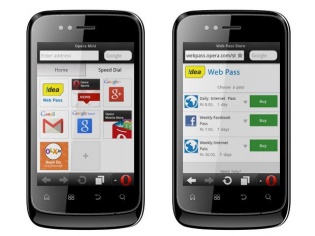 Just last week we reported Opera's Free Web Pass that offers free-web browsing sessions powered by ads. The advertisers basically pay for your free web-browsing period benefiting both the user and the advertiser. The a similar model was adopted by Vodafone earlier this week and now Idea has jumped on the web pass bus by offering simple plans that allow one to browse the web with certain limitations.
It basically works like this:
The user downloads the custom version of Opera browser depending on the network operator by heading to m.opera.com.
Upon downloading the specific version of Opera Mini, user has to simply click on the speed dial page within the browser app.
Then select which one time Web Pass they would like to buy and then simply go ahead and browse.
Of course there are limits to what you can do with a web pass as they are either service based or time based.

Idea has three straightforward options you can choose from:
Daily Internet Pass – Rs 8
Weekly Facebook Pass – Rs 7
Weekly Internet Pass – Rs 30
TAGS: Mobile Phones, Apps, Opera