ASUS Announces Budget PadFone Infinity Lite
Promises to deliver with slightly less powerful hardware specs.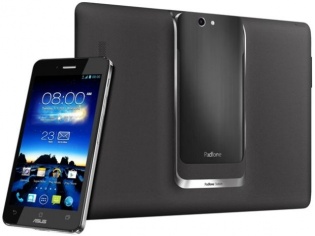 Last September Taiwanese PC maker ASUS had unveiled the PadFone Infinity 2 — a device that combined a phone with tablet. The device obviously did not see success as competing tablets had a lot more to offer and were lot lighter as well.
This time around ASUS launched a PadFone Infinity Lite a mid-spec'd version of the Infinity 2, hoping to boost the sales. The device comes with a phone and a PadFone Station tablet mount. It features a 10.1 inch IPS Full HD display. It is powered by a 1.7 GHz Snapdragon CPU, which is downgrade compard to Infinity 2's quad-core 2.2 GHz Krait 400 along with an Adreno 330 GPU. Let's just hope this year's processor can keep up with the Full-HD display array and deliver tablet level performance when it comes to apps.
What has also remained the same is the 5000 mAh battery that powers the tablet's screen. On the phone side of things you get a 5.0-inch Full HD display, 13 MP camera, and 2,400 mAh battery. One main drawback here is that the device runs Android 4.1 Jelly Bean.
The device releases in March for 13,990 TWD (about Rs 29,000) with PadFone Station priced at an additional 7,000 TWD (about Rs 14,300).
TAGS: Mobile Phones, Tablets, Android, ASUS