Samsung Unveils Android-Powered GALAXY Camera 2
Let's hope it doesn't lag.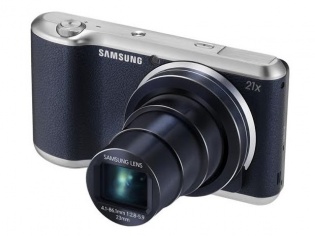 Samsung has announced the GALAXY Camera 2. The gadget is supposed to fuse the camera (a point and shoot) with the user-friendliness of android (Jelly Bean). From what it seems the android bit is simply there to make things easier for the photographer and will definitely not appeal to the enthusiasts.
Camera manufacturers have been adding Wi-Fi and NFC in their cameras for easy photo sharing. However, Samsung went a step further and built a camera on smartphone platform. Thanks to the goodness of Android, you can 'spoil' your photographs instantly using third-party hipster apps such as Instagram.
The GALAXY Camera 2 features a 21x Optical Zoom Lens, 23 mm Wide with an F2.8 aperture at wide and 5.9 at tele. Behind it sits a 1 / 2.3 inch, 16 MP effective BSI sensor which is powered by a swift 1.6 GHz quad-core processor allowing you to click images quickly. At the back is 4.8 inch, HD LCD screen that helps for easier navigation with the friendly UI. The camera/device comes with 8 GB of internal stoorage with microSD expansion of up to 64 GB. 2 GB of RAM should buffer all those quick captures with ease. The gadget also comes with WiFi and NFC for effortless pairing.

Other features that make GALAXY Camera 2 stand out are:
Smart Mode Suggest, which provides a helping hand in securing those winning shots.
Selfie Alarm (Editor's Note: facepalm) that guarantees self-portraits receive the attention they deserve.
Multi Motion Video, which allows users to set the speed of capture and ranging from eight times slower than normal speed up to eight times faster.
The GALAXY Camera 2 comes in white and blue and will be on shelves soon, though there is still no word about its pricing.