BBM Update Gives Whatsapp A Run For Its Money | TechTree.com
BBM Update Gives Whatsapp A Run For Its Money
Update brings voice, channels support, and a lot more to Android and iOS.
After the initial hiccups during the Android and iOS release, fans proved that they loved BBM by downloading it 10 million times in 24 hours. There were new users as well who joined the party as recommendations began to flood the messaging space. Earlier, Whatsapp did not feel the pinch as as BBM lacked many features compared to WhatsApp (everything other than the PIN).
BBM today finally took the wraps of the 2.0 version of the app bringing in a host of new features that may actually take on Whatsapp. Moreover, Whatsapp also seems pretty stagnated in the messaging space with limited features and the same old design which barely changed since its launch.
What does the new BBM 2.0 bring to the table?
Voice: Voice support will be one of the much awaited and attractive features that will make users download the new BBM. It allows for voice calls via the BBM app via Wi-fi and cellular connections for free worldwide (Yeah you heard it right!). The user on the other end would obviously need to have the app installed as well.
BBM Channels: An interesting new feature would be BBM Channels which allows BBM users to hook up to like-minded conversations happening on the network. The user would simply have a list of topics and one can jump into a conversation if it interests them.
Glympse Location Sharing: Glympse a famous network known for its easy and safe location sharing with friends is another new addition which would interest many. Location sharing can be switched for a pre-defined amount of time as of now. Hopefully we should see some more interesting features coming in the next version thanks to Glympse integration.
Dropbox file transfers: Apps stores have recently seen a plethora of apps that actually allow you to transfer large files within conversations. BBM seems to be listening and has integrated the same with users now having the ability to transfer large files from device to device via Dropbox.
There are also 100 new emoticons in case you could not express you self with the ones built-in earlier.
Now that there have been so many improvements are you willing to give BBM a shot?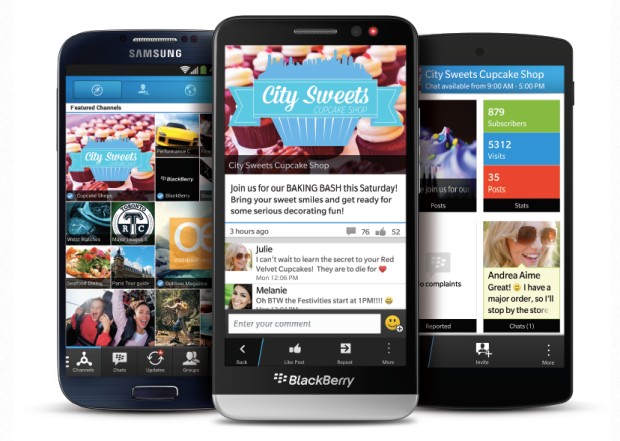 TAGS: Apps, Android, iOS, BlackBerry