Plastic Logic Develops A New Breed Of Flexible OLED Screens | TechTree.com
Plastic Logic Develops A New Breed Of Flexible OLED Screens
Hopefully, it should grace your mobile phone by 2015.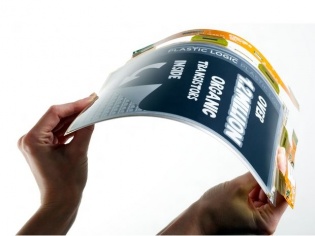 'Plastic Logic'—does the name ring a bell? Well, back in 2010, they were all geared up to release an e-reader called the 'Que'. But that was the time when everyone thought e-ink displays would be the future. Sadly that wasn't the case for Plastic Logic. The company moved on to research since then and into the field of plastics technology. Now, since the focus is on wearable tech, it would be apt to show the world what they had been up to all this time.
At the FlexTech 2014, Plastic Logic spoke for the first time about a flexible display. Mind you, this is not an ordinary display because this is AMOLED technology built into a flexible display made from plastic with everything including the chips that run it.
The prototype unit (which was not available during the announcement) can currently only display the Red colour. Plastic Logic did comment that the screen is a very early prototype and that they will be working towards creating a screen that will eventually be able to display all the colours of the spectrum.
The Screen is being developed in partnership with NovaLED, a specialist in the field of OLED and AMOLED display technologies.
Let's just hope that something fruitful comes out on time, before we start seeing manufacturers like Samsung and Apple hog the market space. Else just like the 'Que' their upcoming technology may have to be canned before the official release.
TAGS: Displays, Mobile Phones, Tablets