BBM Gets Updated: Find Friends Without A PIN | TechTree.com
BBM Gets Updated: Find Friends Without A PIN
BBM's new feature brings it closer to Whatsapp and a step away from privacy.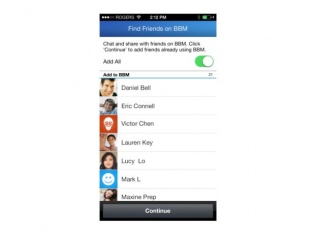 BlackBerry has started rolling out an update which will allow you to discover and find your friends from within the app and then send out an invite to chat with them. For those who aren't aware about BBM, the service works on an invite only system via a BBM PIN, which is created while subscribing for the service.
'Find Friends' works by scanning your smartphone's contact list and then suggesting names that are already using the messaging service. For those friends who have not yet installed the BlackBerry Messenger, there is always the good-old SMS invite.
One may think that this a feature similar to what their competitor WhatsApp, offers. But the biggest differentiater here is that you still cannot chat with your friends without them accepting your invite. This is a big deal when it comes to not being a part of those annoying groups that go on and on about things you are never interested in; yet are forced to view and be notified about.
The update has gone live, but just like the BBM for Android and iOS launch, will be rolled out in different regions gradually and may take time to reach your device.

Apart from Find Friends, there is also a mention of BBM 2.0 update (to be introduced later this month) which will finally introduce video and voice features. Both of these features are available in last month's BBM Beta update.
TAGS: Apps, Software, Mobile Phones, Android, iOS, BlackBerry