The HTC M8 Shows Us Its Face!
Features an aluminium body and with no capacitive buttons.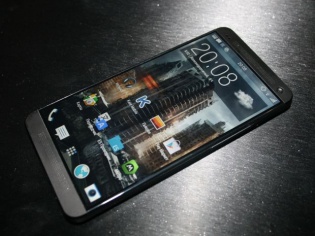 The HTC M8 seems to be the talk of mobile town when it comes to rumours. Once again today, it has pleased its fans by showing face in non-blurry images.
Tipped to go official this March, the Twin-Ultra Pixel set-up stirred up quite a lot of imaginations yesterday as to what is HTC actually focusing on for this year's flagship. Today, all the blurry leaks have made way for the clearest rendition of this aluminium beauty.
Going by the images published by a Russian site mobiltelefon.ru, the screen seems to have completely taken over the front of the device. This only leaves space for the beats speaker set up at the top and the bottom of the handset. The navigation menu has taken up some real-estate on the screen itself and from what it seems will appear and can be hidden with a simple swipe gesture.
What can also be conceived from these images is that it seems that HTC has not let go of the One's design philosophy of straight lines and sharp edges which actually contributes to its modern look. There is still no clear indication of leaked news about the M8's screen is going to match the Quad HD dimensions expected in the upcoming flagships.
TAGS: Mobile Phones, Android, HTC