Rumour: HTC's M8 To Have Dual Camera Setup
The upcoming handset might skip the fingerprint sensor and add an additional camera instead.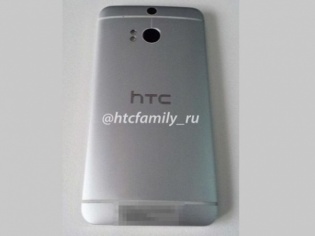 We have all been getting tidbits of information about the HTC One's successor, the HTC M8 for a couple of months now. Well today has been one giant leap and HTC fans finally have an actual live picture of the handset to ogle at thanks to @HTCFamily.ru.
We first got a glimpse of the rear panel and recently its virtual buttons; today a picture actually shows the handset's twin Ultra Pixel Camera set up on the backside along with a dual LED flash. There is no sign of the fingerprint sensor from the One Max though. This could either mean that HTC dropped the idea after failed attempts to replicate the iPhone 5s' fingerprint sensor or maybe they just want to focus on improving the Ultra Pixel technology for their flagship device. What's even more noticeable (and confusing) is that why are there two different sized camera units on the back.
While we await the official announcement which will most probably happen in New York pretty soon, there's no telling that Samsung fans are enjoying bragging rights in terms of leaked Quad HD specifications so far.

HTC M8 #HTC #M8 #HTC_M8 #HTCM8 #Leaked pic.twitter.com/LqQ693i3HF

— HTCFamily.ru (@HTCFamily_RU) February 4, 2014
TAGS: Mobile Phones, Android, HTC