Moto G Takes On Domestic Brands With A Rs 12,500 Price Tag
With quad-core specs the poor man's Nexus is set to disrupt the budget smartphone market.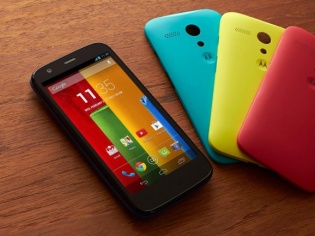 The long-awaited Moto G finally got a price tag confirmation this morning on the Indian online retailer Flipkart.com. Pricing is set to affordable Rs 12,500 for the 8 GB variant, while the 16 GB one costs Rs. 14,000.
First made available in Brazil and parts of Europe, followed by Latin America, Europe, Canada and now finally in India, the Moto G has made waves for being a reliable jelly bean powered Quad-core device with an HD screen. Flipkart claims that they have secured an "exclusive" deal with Motorola to sell this handset in India.
The phone flaunts a 4.5-inch HD display encased in Gorilla Glass 3. Inside is a midrange Snapdragon 400 chipset, which houses a 1.2 GHz CPU along with 1 GB of RAM. Since the internal storage maxes out at 8 and 16 GB and there is no microSD card slot for further expansion, one should not expect anything more than 6 GB of usable storage in the base model.
TAGS: Mobile Phones, Android, Motorola