F&D 2.1 A530U Speakers Available For Rs 5000 | TechTree.com
F&D 2.1 A530U Speakers Available For Rs 5000
2.1 surround system promises to offer powerful sound in a compact shell.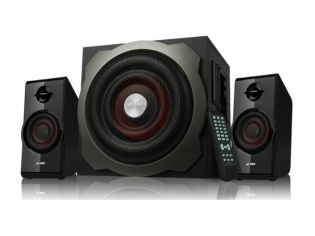 Fenda Audio has introduced the A530U speaker system with 5000W PMPO. The sub-woofer comes with a 6.5 inch full-range driver and satellite speakers, which are powered by 3-inch full range drivers. The A530U flaunts a heavy-duty attitude with metal grills scoring high in the looks department with its wooden cabinet. According to the company, the wood factor reduces distortion while the bass fills your room with clear sound.
Like most modern offerings of F&D, the A530U has smooth connectivity to MP3 players, PC, TV, CD and DVD players. When not connected to PC or Music system, the speakers can play songs with its onboard USB and SD card reader. It also features a built-in digital FM player with 100 FM stations storage and an advanced PLL technology. The A530U 2.1 Speaker System is priced at Rs 5000.
TAGS: PC Peripherals, Audio