NASA Will Ring In Christmas Eve With Live Spacewalk Broadcast | TechTree.com
NASA Will Ring In Christmas Eve With Live Spacewalk Broadcast
Second repair for the ISS will wow space enthusiasts.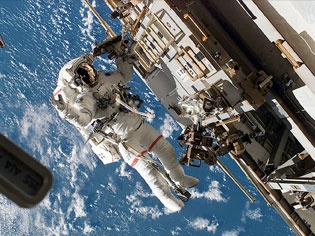 NASA is all set for its next spacewalk to fix glitches in the ISS, and this time, it'll happen on Christmas Eve. This is the second time that NASA astronauts will attempt a spacewalk to repair the International Space Station. The live stream will commence at 3:15 PST (16:30 IST), but the actual spacewalk will start an hour later. The entire exercise is expected to last up to 6.5 hours. Check out the live stream link below. LA Times reports that this spacewalk will try to fix an issue with a "pump in one of the space station's two external ammonia cooling loops". These cooling loops help the equipment inside and outside the space station from overheating.
In other news, NASA has upgraded the software that runs the Mars Curiosity rover, which has revealed physical wear and tear on the robot's wheels. Known as Version 11, the new software patch comes as the Rover makes its way to a 3-mile-high mound in the middle of Gale Crater, dubbed as Mount Sharp. LA Times reports that the robot has found conducive atmosphere for Earth-like microbes to survive and NASA is hopeful that the clay-rich layers found on Mount Sharp will reveal more.
TAGS: Science