Nokia Launches Asha 500 And 503 In India | TechTree.com
Nokia Launches Asha 500 And 503 In India
The feature phones are priced between Rs 4500 and 6800.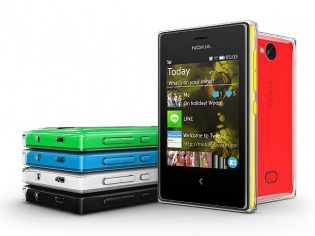 After unveiling the Asha 502 a few days ago, Nokia has rolled out 500 and 503 in India. Both these phones run Asha software platform 1.1 with swipe UI. The phones come pre-installed with Nokia Express Browser, Facebook, Twitter, and WhatsApp. Moreover, you get 10 free games from Nokia Store.
Out of the lot, Asha 503 features a 3" curved screen with 320x240 pixels. The display has been protected by Corning Gorilla Glass 2. It's also the only 3G phone among the lot. This dual-SIM phone has a 5 megapixel camera and 1110 mAh battery.
On the other hand, the Asha 500 sports a 2.8" screen. Other features include Wi-Fi, Bluetooth 3.0, FM Radio, dual-SIM support, 1200 mAh battery, and microSD card slot.
The Asha 500 and 503 come in Lumia-esque vibrant colours. There's also a layer of transparent plastic that makes these phones look like ice-candies. The Asha 500 has been priced at Rs 4500, while the Asha 503 can be bought for Rs 6800.
TAGS: Mobile Phones, Multi-SIM, Nokia, Asha