500,000 Pieces Of Lego Turned Into A Car | TechTree.com
500,000 Pieces Of Lego Turned Into A Car
The full-scale car features an air-powered engine.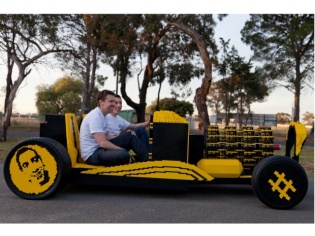 As kids most of us have spent hours with Lego bricks. If you ever thought that a foot-long tower or perhaps a bus was a complex creation, you need to check out this full-scale car made out of 500,000 Lego blocks. Dubbed Super Awesome Micro Project, this car is actually drivable. Its engine comprises of 256 pistons strapped on Lego blocks, and is fuelled by compressed air.
This car is a brainchild of an Australian marketing guy Steve Sammartino and a teenage geek Raul from Romania. These Internet friends presented their idea on Twitter. Surprisingly, forty Australians agreed to fund this crazy project. Once the cash-flow began, the car started to take shape. This structure is sturdy enough to withstand the speed of 20-30 km/hr. According to the official blog, the Lego car was built in Romania and shipped to Australia for the demonstration. You can check it out in action in this video.