LG Announces World's First Curved 105" Ultra HD TV | TechTree.com
LG Announces World's First Curved 105" Ultra HD TV
Will show off the mammoth TV at CES 2014.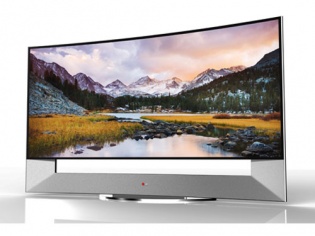 LG Electronics has announced that it will be unveiling the World's first Curved Ultra HD 105UB9 TV with an aspect ratio of 21:9 at the International Consumer Electronics Show (CES) in Las Vegas next month. It will also be the company's first curved ultra HD model. The 105-inch (measured diagonally) 105UB9 is officially the largest curved TV. Its cinematically proportioned 21:9 CinemaScope screen is ideal for enjoying movies.
Another advantage of the extra-wide screen is that it enables users to access viewing information on the side of the screen. It boasts of an 11 million pixel (5120 x 2160) screen resolution. Until now, OLED panels were preferred for curved displays due to their ability to generate their own light. LG Display overcame the challenge by refining its Thin Film Transistor (TFT) pixel circuit technology to prevent colour leakage. Visitors at CES 2014, which starts on 7th January, will have an opportunity to see this massive TV.
TAGS: Home Entertainment, Displays, CES, LG