Vu Introduces The Largest Apple-Based TV In The World | TechTree.com
Vu Introduces The Largest Apple-Based TV In The World
Available in 50, 55, 65, and 84 inch models.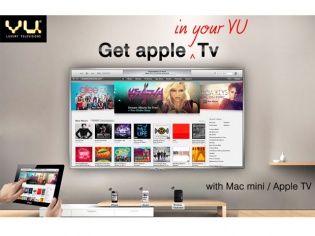 Vu has announced the launch of India's first TV with built-in Mac Mountain Lion X Operating System. The Vu SuperMac TV is slated to be the first advanced computer-television integration. This TV can be used as a replacement to a Mac or as an additional Mac device. The biggest advantage of the Vu SuperMac TV is that it eliminates glossiness with its A+ Grade Matt panel and provides actual output of graphics, designs, or videos. The Vu SuperMac TV comes with an HD4000 Graphic Card. The Vu SuperMac TV can be customised with desired frames and touch screen options along with the processor.
The Vu Super Mac TV comes in 50 / 55 / 65 and 84 inches versions and is available at all Vu stores. The range starts from Rs 1,37000. Cleck out individual pricing details below:
Detail pricing:
- Vu 84" SuperMac TV – Rs. 975,000
- Vu 65" SuperMac TV – Rs. 275,000
- Vu 55" SuperMac TV – Rs. 185,000
- Vu 50" SuperMac TV – Rs. 137,000
Key specs:
X Mountain Lion Operating System.
2x Faster Intel Core i5 Processor.
500 GB Storage with 4 GB RAM.
Wi-Fi and Bluetooth.
USB 3 connectivity options.
Wireless keyboard with Touchpad mouse.
All Apple devices can be wirelessly connected.
No Glossy Image Output with A+ Grade Matt Panel.
Surround Sound System.
Comes with 3D Technology.
iTunes and Safari Browser.
TAGS: Home Entertainment, Displays, VU, Apple