RAPOO Launches Wireless Touchpad Keyboard For HTPC And Smart TV | TechTree.com
RAPOO Launches Wireless Touchpad Keyboard For HTPC And Smart TV
The 5 GHz wireless touchpad keyboard will change the face of entertainment.
RAPOO launched its 5 GHz wireless touchpad keyboard E9180P for PC and home entertainment. It combines a 5.6 mm thin BLADE series keyboard and ultra-slim touchpad with 15 customisable touch gestures. RAPOO E9180P is also compatible with Windows 8 and offers smooth flow of connectivity. It has a standard QWERTY layout with 82 keys, in which the numeric keypad has been replaced by a touchpad. The integrated touchpad recognises multiple fingers and gestures for easier navigation. RAPOO E9180P wireless touchpad keyboard costs Rs 4630 and comes with a 2-year replacement warranty.
Key Features:
5G Super anti-interference wireless connection.
Up to 15 customisable touch gestures.
Ultra-slim stainless steel base plate.
Plug-and-play 5 GHz Nano receiver.
Scissor key structure, extra comfort.
Quick access to Windows 8.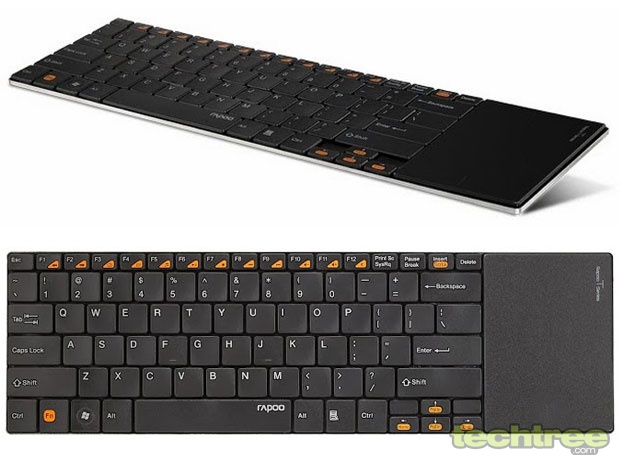 TAGS: PC Peripherals, Input Devices, Rapoo