Nokia Asha 502 Now Available In India | TechTree.com
Nokia Asha 502 Now Available In India
The handset runs the Asha software platform 1.1 with swipe UI.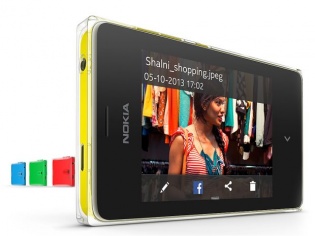 The Asha 501's successor, has popped up on Nokia's official online store. Dubbed as Asha 502, this phone features a 3-inch screen (320x240 pixels) encased in Gorilla Glass 2. Now, we don't like big phones; but 3" display is quite cumbersome for typing. The camera has been bumped up from 3.1 to 5 megapixel, and there's an LED flash too. The phone runs Asha software platform 1.1 with swipe UI. It will come pre-installed with Nokia Express Browser, Facebook, Twitter, WhatsApp, etc. Similar to its predecessor, this dual-SIM phone supports EDGE, Wi-Fi, and Bluetooth 3.0. The lack of 3G will turn off many potential buyers. No word on what processor goes inside this phone. RAM is said to be 64 MB, and so is the internal storage. Thankfully, there's a microSD card slot to expand the storage up to 32 GB.
More than its specs and features, Asha 502's bold aesthetics will attract buyers. The phone comes in Lumia-esque vibrant colours, but what's unique is the layer of transparent plastic on it. Similar to the 501, you can expect this handset to be rock-solid. The Asha 502 is available online for Rs 5800. For this price, you can get a feature-packed Android phone from a domestic manufacturer, or add a couple of grand more and go for the Lumia 520 instead.
TAGS: Mobile Phones, Multi-SIM, Nokia, Asha