Download: Angry Birds Go! (Android, iOS, Windows Phone, BlackBerry) | TechTree.com
Download: Angry Birds Go! (Android, iOS, Windows Phone, BlackBerry)
Birds and pigs take their feud to the racing track.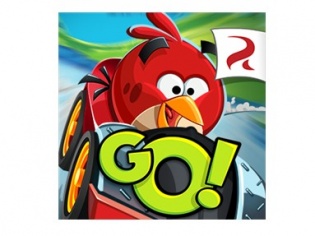 Angry Birds are back, and this time they've landed on all major smartphone platforms such as Android, iOS, Windows Phone, and BlackBerry 10 OS, simultaneously. Dubbed Angry Birds Go!, the newest addition to the Angry Birds universe is a cart-racing game.
Unlike the earlier games in the franchise, the Angry Birds Go! isn't about birds wasting pigs to avenge thier eggs. Instead, this game allows you to choose a character and race against pigs and birds alike. To make things interesting, the game includes plenty of power-ups. Like most racing games, Angry Birds GO lets you upgrade cars using in-game currency or real money if you're lazy. And of course, there are multiple game modes including Race, Time Boom, Fruit Splat, Champion Chase, and Mega Match. The visuals are nicely done, and it's the first Angry Birds game with 3D maps. The best part is that this quality app is free on all platforms.


Publisher: Rovio Entertainment Ltd.
Platform: Android, iOS, Windows Phone 8, BlackBerry OS 10.
Size: 49 - 98 MB
Price: Free
Download URL: Android — play.google.com/store/apps/details?id=com.rovio.angrybirdsgo;
iOS — itunes.apple.com/in/app/angry-birds-go!/id642821482;
Windows Phone 8 — windowsphone.com/en-in/store/app/angry-birds-go/98fbba41-dafc-4b3e-83e5-21a8d7a4e0f4;
BlackBerry OS 10 — appworld.blackberry.com/webstore/content/39359937/?countrycode=IN&lang=en
TAGS: Apps, Downloads, Gaming, Android, iOS, Windows Phone, BlackBerry