Inmates Update Facebook Pages From Jails! | TechTree.com
Inmates Update Facebook Pages From Jails!
Another feather in the cap, Kerala anyway has the highest literacy rate in the country.
As young have to watch what they post on Facebook (for the fear of section 66a of the IT Act), prisoners in Kerala jails seem to have no such issues. A report in the Economic Times reveals how inmates at the Kozhikode district jail, who have been accused of killing Revolutionary Marxist Party (RMP) leader TP Chandrasekharan have full access to not just mobile phones to make calls, but also internet connectivity. A local TV channel apparently showed them not only using phones but also updating their Facebook pages quite regularly.
While it is illegal to use phones inside jails in Kerala (under the the Kerala Prisons and Correctional Services (Management) Act, 2010), this is not really a first time offence. The state which boasts of the highest literacy rate in the country has been a serial offender in this case. Alexander Jacob, Director General of Police (DGP), who has seized over 200 handsets from jails across the state, said that the department had installed mobile jammers in Kannur central jail to cease the practice. But after spending as much as Rs 40 lakhs of the taxpayers money, the inmates turned out to be smarter — they managed to damage the instrument.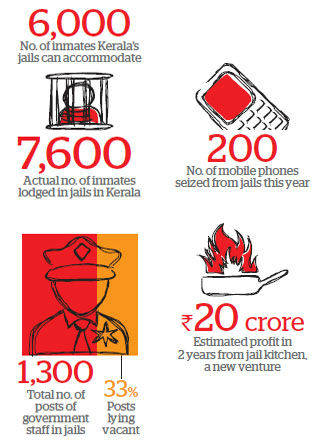 Image courtesy: Economic Times
TAGS: Internet, Culture, Government, Facebook, Mobile Phones