Nokia And Thomson Reuters Foundation Flag Off International Photo Contest
A nice way to win a Lumia 1020 and other goodies.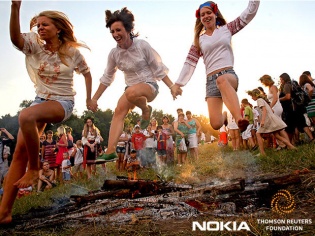 Nokia is leaving no stones unturned to market its Lumia 1020. Now, the Finnish brand has tied up with the Thomson Reuters Foundation for an international photography contest. Flagging off the contest via Facebook, the theme of the competition is women empowerment. The listing page describes the contests as "Photographers are encouraged to explore themes such as: leadership, courage, passion, opportunity, innovation, and motherhood. Women do not enjoy the same rights and opportunities everywhere. Tell us a story. Show the world a positive image to inspire and trigger change".
For the first leg of the contest, there is no mention of equipment to be used, so I assume you can use anything from a cell phone camera to a DSLR.
The contest will end on 11th February, 2014, and the 10 finalists will be announced on 5th March. These 10 photographers will then have to use a Lumia 1020 and create a portfolio on the same theme. The final winner, which will be announced on 2nd April, can stake claim the following goodies:
- The very first Thomson Reuters Foundation-Nokia Award.
- An all-expenses paid trip to attend a Mobile Journalism training course organised by the Thomson Reuters Foundation and led by professional journalists.
- A Nokia Lumia 1020 smartphone.
- Exclusive opportunity to have your work published on Thomson Reuters Foundation's award-winning website trust.org and across the Thomson Reuters Foundation and Nokia's social media channels.
- Exclusive opportunity to have your work/portfolio reviewed by the Thomson Reuters Foundation multimedia team.
- Interview published on trust.org.
Last year the workshops were held in London, Buenos Aires, and Tbilisi, so we can expect some exotic locations this time too.
That is not all, there is a public choice award too; this one will be decided by public votes and stands to win a Nokia Lumia 1020, and the 2013 edition of the 'Reuters Our World Now' photobook.
The campaign is dubbed as "Click for Change", which most obviously means that you need to use the hashtag #click4change. Check out the video below for details.