Yet Another 5" Phone Out, This Time It's The Spice Smart Flo Mettle 5X
The phone is loaded with "Lanuchers" and "Unlock Styles". Don't ask!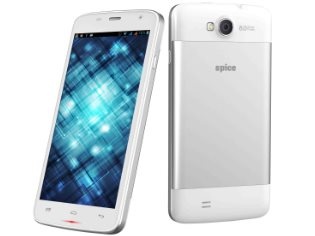 Wow, another 5-inch phone, again from the Android camp. We couldn't be happier, but wait, there is something different about this one.
Let's get the usual blah out of the way, such as dual-SIM, quad-band, dual-core 1.3 GHz, 512 MB RAM, 8 MP camera, 5 inch FWVGA (854×480 pixels), and of course Android 4.2.2 (Jellybean), and all this for under Rs 7000.
But true to its name, Spice does seem to know how to spice up a boring a news day. When you dig down, you'll truly find gems such as these, in this very helpful comparison chart created by an equally-bored marketing person, I suppose.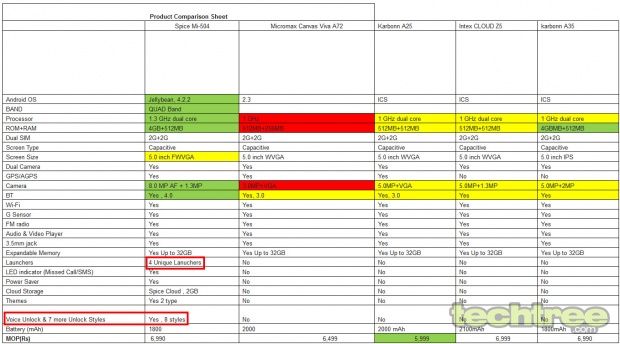 I know what a Launcher is, but what is a "Lanucher"? Spice seems to have 4 of them and that too Unique ones. Thank God other phones don't have that.
Voice Unlock & 7 more Unlock Styles - This phone has a "Voice Unlock" while at the same time a feature called "7 more Unlock Styles", which other phones shockingly don't have. And the adjoining column says, "Yes" for the Voice unlock and "8 styles" for the 7 more Unlock Styles. Hang on, doesn't one Voice Unlock + 7 more Unlock Styles = 8 Unlock Styles Total? Then why not say that in the first place? This isn't a suspense film!
Also, what's with the colours? They are all over the place; what do you really want me to look at? The greens, the yellows, what?? Never mind.
Thank you for the entertainment Spice; Peace out!
TAGS: Spice, Mobile Phones, Android, Multi-SIM