Kapil Sibal Debuts On Twitter… Let The Trolling Begin!
Manages to garner a modest 8500+ followers within a day of his first tweet.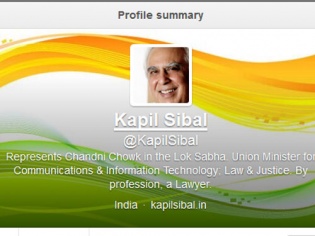 After trying to turn off social media in the country for much of 2012, Union Minister for Communications & Information Technology, Kapil Sibal has finally joined the Twitter bandwagon. While the account hasn't been verified on twitter yet, the fact that he hasn't tweeted anything of substance (or put his foot in his mouth yet) pretty much hints at this being authentic. Sibal kicked off his twitter conversation with an invitation to troll chat. As expected, the happy tweeple took it upon themselves to make most of the situation. Here is a compilation of some interesting, nasty, and down-right sleazy things people had to say to the congress minister.
Here I am. One of you. Lets talk.

— Kapil Sibal (@KapilSibal) November 28, 2013
Here I am. Zero of you. Lets talk.

— Kapil Sibal (@Sibalism) November 28, 2013
.@KapilSibal Sir, i love your show, Comedy nights with Kapil.

— Trendulkar (@Trendulkar) November 28, 2013
@KapilSibal Sir I am big fan of yours.. Can I get an autograph?

— Gappistan Radio (@GappistanRadio) November 28, 2013
Whoa! he has managed the impossible ! Sri @KapilSibal is following himself on twitter. pic.twitter.com/6KmLf43Zxm

— ವೆಂಕಟೇಶ (@venkateshkm) November 28, 2013
Hello @KapilSibal . Are you tweeting using your Aakash tablet?

— Nikhil Pahwa (@nixxin) November 28, 2013
Kans Mama just joined Twitter Mahabharat...@KapilSibal

— Divya (@divya_16_) November 28, 2013
.@kapilsibal Sir, BIG FAN! Wanna dedicate a sher to you "Chalti hai gaadi, udti hai dhool, Eyebrows saaf karte rehna warna ug jayenge phool"

— Adamantine Flirtist (@SlyTweetMaster) November 28, 2013
@KapilSibal Subah Ka Bhula Agar Sham Ko Ghar Laut Aaye To Use Bhula Nahi Kahte. Welcome at #Twitter.

— Omee Raja (@OmeeRaja) November 28, 2013
Aryabhatta invented ZERO, Kapil Sibal calculated its Value, Kareena Kapoor Demonstrated it, and Saif Ali Khan Felt it.

— prodigy (@TheOnlyProdigee) November 28, 2013
Reporter: Why are you following CommunalCongress on Twitter ? Kapil Sibal : When I searched for 'True Congress' that's what I got.

— FakeJourno (@FakeJourno) November 28, 2013
Finally imposter @KapilSibal is here. Once the imposter start tweeting, I challenge you to guess which one is parody and which one is real.

— Kapil Sibal (@Sibalism) November 28, 2013
TAGS: Internet, Culture, Social, Government, Twitter