Viewsonic's ViewSync Lets Your Projector And Display Go Wireless | TechTree.com
Viewsonic's ViewSync Lets Your Projector And Display Go Wireless
The Wireless Gateway is compatible with Windows, Mac, iOS, and Android platforms.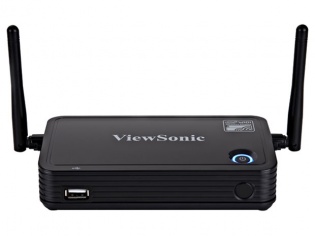 ViewSonic Corporation, has launched the Intel WiDi-optimised ViewSync WPG-370 gateway solution. It is ideal not just for SMB and education environments, but also AV enthusiasts. The WPG-370 provides advanced universal wireless connectivity for any new or existing projectors, monitors, TVs, or large-format displays. Irrespective of whether one projects it from Windows, Mac, iOS, or Android platforms, you can wirelessly push content onto the screen.
Multiple connectivity options such as HDMI and optical audio make connecting to any display easy, while convenient features such as PC-less media streaming can be worked from a USB drive. This also enables users to wirelessly stream full-HD (1080p) video to any projector or display, when using an Intel WiDi laptop, Ultrabook, smartphone, or tablet.
Furthermore, the WPG-370 is Wi-Fi Miracast-ready and supports direct content streaming to the gateway from Android and iOS smartphones and tablets with the iMediaShare mobile app. With this third-party app, users can stream multimedia files such as videos and images for wireless sharing. The WPG-370 is now available in India for Rs 10,000.