MediaTek Stakes Claim To "First True" Octa-Core Chipset | TechTree.com
MediaTek Stakes Claim To "First True" Octa-Core Chipset
Take that, Samsung.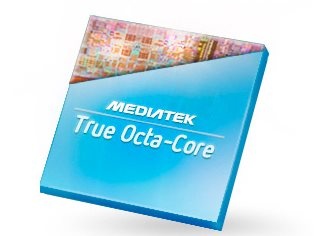 Well, look who's showing off! MediaTek in partnership with ARM announces the first true eight-core mobile chip.
MediaTek says "The MT6592 is the world's first heterogeneous computing SOC with scalable eight-core processing for superior multi-tasking, industry-leading multimedia and excellent performance-per-watt". WHAT?? Pliss Speaka Anglis!
Basically it is an Octa-Core chipset model number 6592, based on the ARM architecture. It apparently can work all eight cores simultaneously, unlike the Eyxnos 5 chips used by Samsung; while at the same time lowering power consumption up to 50 percent when compared with present high-end chipsets. Whether this equals to better battery life, gaming or overall performance remains to be seen. Sadly even though hardware is present, it is more often than not Android software optimisation that lacks.
The processor inherently, supports up to 16-megapixel camera, full-HD video (H.265), and Ultra-HD support on the H.264 spec is also supported.
MediaTek is planning to debut this by the end of this year on Android 4.3 Jelly Bean with 4.4 KitKat update following soon.
Update: Banking on the "Octa-core chipset", Intex has already announced a 6-inch phablet, 7mm thick running on Android 4.2.2. It boasts of a 1.7 GHz Octa core processor and HD IPS touch-screen with an option of 16GB/32GB internal memory. "Intex plans to incorporate plethora of applications and other interesting features to enhance the user experience". Oh God, please don't, Intex, just optimising the software will go a much longer way.
TAGS: Mobile Phones, Tablets, smartphones, Android, processors